Feeds for Father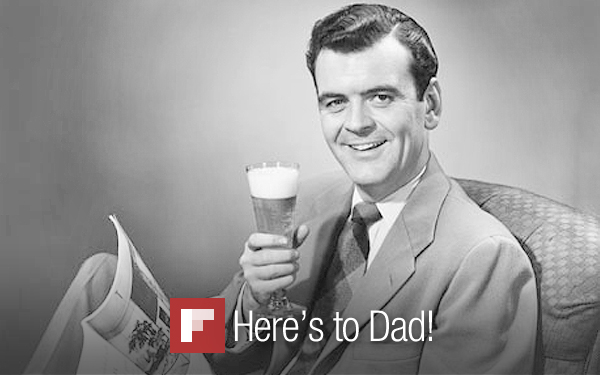 Flipboard would like to do its part for dads everywhere by suggesting a bit of reading to enjoy this Father's Day weekend. In other words, we expect to see a lot more Tweets like @macjustice's floating around soon.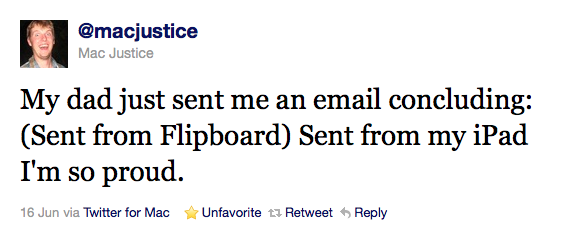 Uncrate – Tap to Add Section
From washable earphones to ground meat, Uncrate will make you feel like you need it — whatever it is — right now. Gorgeous photos adorn expertly curated picks of "stuff you never knew you wanted." Dive in for some drool-inducing gadgets, clothes, cars, DVDs, and more. (iCuffLinks, anyone?)
SB Nation – Tap to Add Section
SB Nation knows that fans are the lifeblood of sports and has built its platform around the largest and fastest-growing network of fan-centric online sports communities. With a staff of more than 40 editors, researchers and contributors, SBNation.com has become essential reading for breaking news, analysis, and commentary on the U.S. Open, MLB inter-league play, and more.
My Life Scoop – Tap to Add Section
My Life Scoop offers "tips for a connected lifestyle," meaning that its goal is to help you do hundreds of things faster, smarter, and better. To get to this state of multitasking nirvana, the team has assembled an A-list of contributors from places like Art of Manliness, Design*Sponge, My Modern Met, Cool Material, The Hairpin, Mighty Girl, and Wise Bread.
Ape to Gentleman. – Tap to Add Section
This British blog wants to mold unkempt fellows into refined gentlemen via a healthy supply of grooming products and advice. There's also no shortage of gift ideas here, for Father's Day or any day.
DIY – Tap to Add Section
Prop up your iPad and let no task defeat you! Folks from Instructables, Make, Make Use Of, Ready Made, WikiHow, and Howcast share what they know about mastering technology, tools and relationships to get what you want out of this world.
Remember, you can always add your own sources to Flipboard. Just tap "Add a Section" and search for what's most important to you.
Happy flipping,
~MiaQ
featured@flipboard.com
facebook.com/flipboard
@flipboard_mia