Spotlight: Smile Mercantile's Valerie Lloyd
My name is Valerie Lloyd and my medium is handmade crafts.
My love of art and crafts is a result of the years I've spent studying, collecting and creating beautiful things. I run an online shop called the Smile Mercantile where I sell unique and vintage craft supplies, and heirloom-quality seasonal decorations that I make by hand. To see my collection, visit Smile Mercantile, or take a look at my Etsy shop right on Flipboard.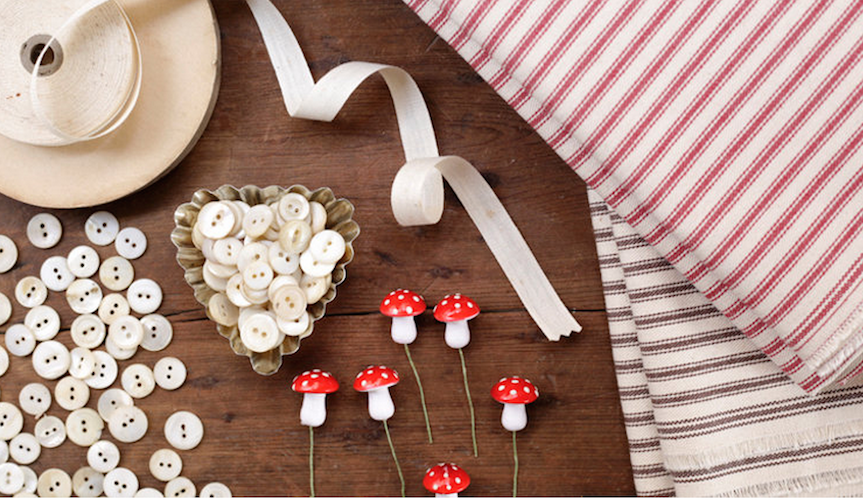 I use Flipboard to learn more about the things that interest me. As an artist, I enjoy studying design and art history. As a small business owner, I'm collecting ideas for my shop and keeping up with trends. I also read a lot about gardening and decorating, and I love that Flipboard brings together all of my favorite print magazines. I really cover a lot of different topics from a wide variety of sources. In my magazine, "Antiques and Vintage," I enjoy curating articles about history, rare objects and tips for collectors. I try to find really great content with lots of pictures, but also the stories behind them.
Flipboard is also great for inspiration. My morning routine is to get up, grab my coffee and phone, and then get back in bed to consume Flipboard for a half hour. I get up early, just so I can do this! Reading an article about the history of a beautifully designed piece of furniture, or viewing a collection of black and white photographs from the 1930s is a great way to start my day. It is so important to see things that get my wheels turning, and that put my mind in a creative place. Flipboard allows me to absorb a huge amount of inspiring content in a short amount of time. For me, it's like reading the morning paper, except every single article is something I want to read, and is completely tailored to my interests.
The first article I flipped had this amazing headline: "Loving Husband Buys His Wife 55,000 Dresses in 56 Years." What made him do it? What a fella! He sounds like kind of a nut, but doesn't that make you want to read more? It was an article that I knew I would want other people to see. It's a bit ridiculous, but also tender at its heart, and it gives you a glimpse into the mind of a person who has collected something over a lifetime.
The best article I read all week was Remodelista's "Expert Advice: Halloween Decor Tips from a Master of the Dark Arts." It has some great ideas and incredible pictures—very spooky and totally un-tacky. Think dark linen, foraged moss and candlelight.
A magazine I've found on Flipboard that's my made my life better is Design*Sponge and their Biz Ladies series. I'm completely obsessed. They profile creative women and their businesses, and I find so much encouragement and inspiration in their articles. So often it seems that business publications project a really narrow view of what an "entrepreneur" looks like. It's really refreshing for me to read articles that explore the idea of women being successful in business, without changing who they are to fit someone else's ideals. It's a confidence-boost to read stuff like this.
My biggest influence is my ceaseless desire to create. I'm happiest when I'm making things, and I'm fortunate to be able to do that for a living. I think putting creativity first is a lifestyle, and it is one that fits me.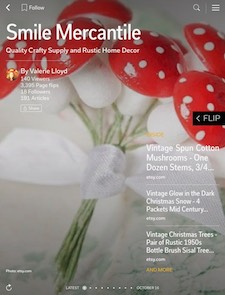 ~ShonaS is curating "Proof of Experience"