On the Red Couch with Roald Dahl's Grandson Luke Kelly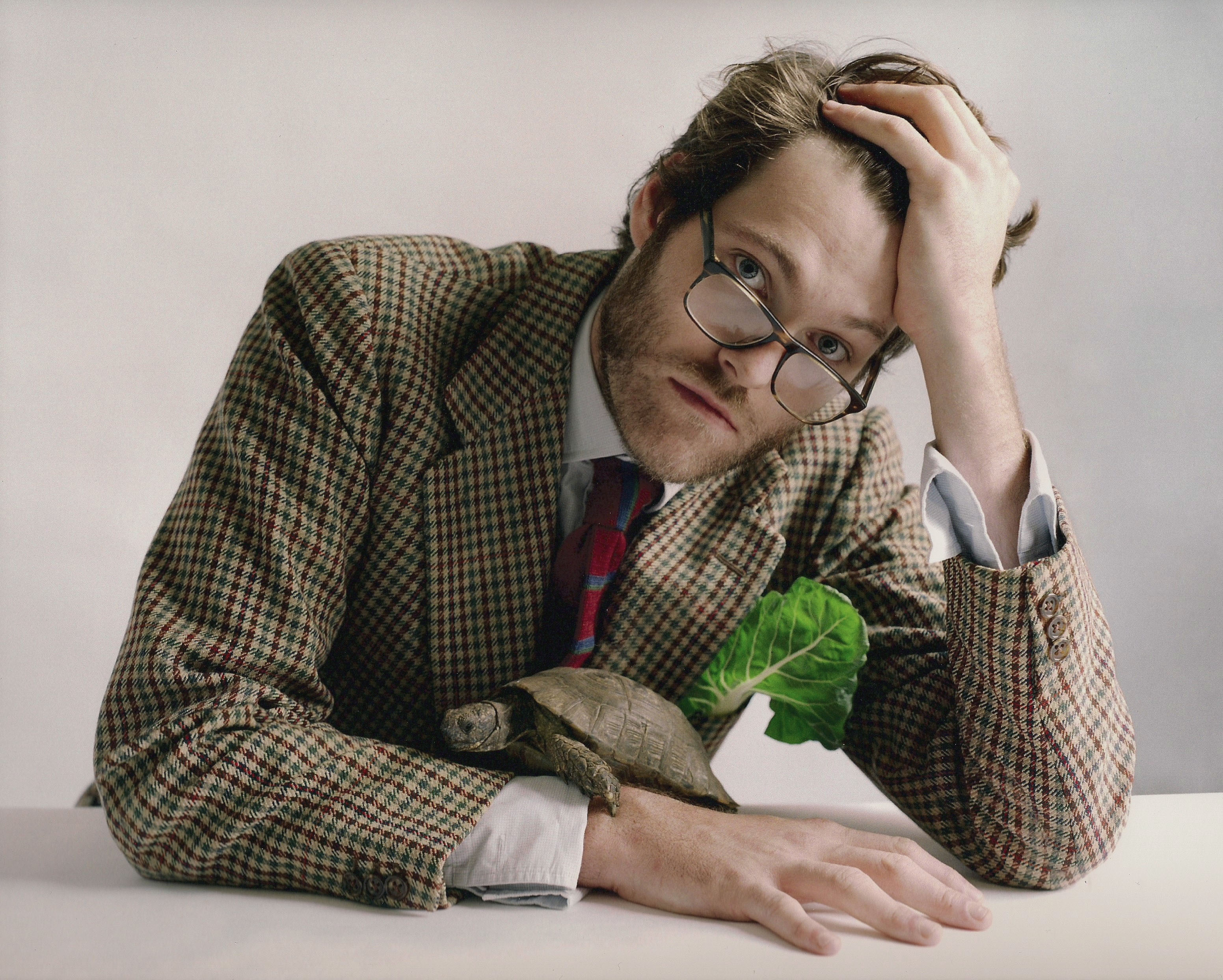 Whether you're 50 or 15, there's a good chance Roald Dahl influenced your childhood in some way. The prolific British author penned 17 hugely popular children's books, many of which—including The Gremlins, James and the Giant Peach, and Matilda—were adapted for the big screen. Of all Dahl's imaginative books, none caught the world's fancy quite like Charlie and the Chocolate Factory, which is celebrating its 50th anniversary this year.
Though greed, good vs. evil and everlasting gobstoppers are the more obvious elements of the classic tale, Dahl was careful to approach childhood with maturity. One of the people who got to experience that firsthand was his grandson, Luke Kelly, a children's book author himself. We spoke with Kelly about his childhood, his grandfather's collection of strange curios and why he adores Augustus Gloop.
Why do you think Charlie and the Chocolate Factory has remained such a favorite book for children and adults alike, even 50 years after its initial release?
I think the longevity of the story is owed to both the sheer inventiveness of the rooms Wonka leads us through and the inventiveness of the language Roald uses to lead us (by the scruff of our necks) along the whole story. Also, the unnerving prescience of the themes—obesity and screen-gazing culture, etc—make the book feel very current. It is anchored in the perennial theme of good triumphing over greed within a traditional cautionary tale structure.
Who is your favorite character and why? Did your grandfather have a favorite character in the book?
As a true glutton myself, I have a fondness for Augustus Gloop. Roald was himself a great inventor—inventing a medical brain shunt that helped drain excess fluid from the brains of thousands of injured children—and so Wonka, as the ultimate inventor, feels like a depiction of parts of his own character.
The two movie adaptations for Charlie are very different. What's your opinion on each version?
Each has its own particular appeal. The Gene Wilder version is now an evergreen classic in its own right and I love its caustic humor. The Burton/Depp vision—which will celebrate its own 10th anniversary in 2015—brought out some of the darker elements skillfully. And it's worth noting that Burton created the factory with very little CGI, using huge, incredible sets built at Pinewood. He even had real-life squirrels on set, such was his commitment to authenticity.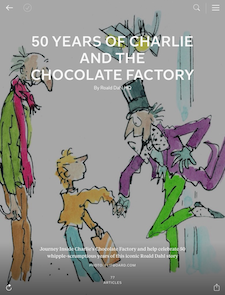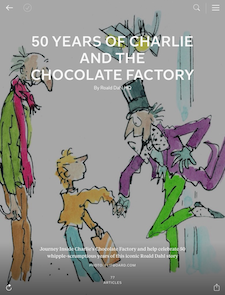 Writing for children is especially difficult for adults because it asks them to either revisit their youth or try hard and live vicariously. Obviously your grandfather was quite capable that way. Where did he turn for inspiration?
Roald was gifted in seeing the world through the eyes of a child. He once said, "If a grown-up really wants to find out what it is like to live in a young person's world, let him or her get down on hands and knees and go about like that for a week." Somehow he never forgot what it was like. To a degree, he drew on his own childhood experiences—tapping into his difficult time at school, for instance, to create the amazing Crunchem Hall and Miss Trunchbull. He also seemed to find inspiration for his stories everywhere else too, and made notes in his ideas books, often returning to these and ticking off the initial germ of an idea once he had developed it into a full story.
The children in his books face very unpleasant circumstances. Was that informed by Roald's own upbringing?
Elements of his own childhood were stark, such as being sent off to boarding school at age eight (the same age I went, too!) and seeing the dark side of humanity during World War II, but he also had a very loving and close family and a devoted relationship with his mother. So equally, it might have been his recognition that you have to put the hero or heroine through the wringer in order to create a compelling story. In that regard, he is part of a tradition harking back to traditional fairy tales, which of course he offered his own unique twist on in Revolting Rhymes.
Up until a year and a half ago, you ran an antiques store in New Hampshire, and have mentioned in previous interviews that your family were inveterate collectors. What sorts of items populated your childhood homes? And of those, which were the strangest or most compelling?
Roald collected everything from exotic orchids to revolutionary art. In his writing hut he had an eclectic collection, including ancient antiquities, his own blue and purple spinal pieces (removed in an operation related to his wartime plane crash) that sat floating in a jar next to his writing pencils, and a mini cannonball made from Kit Kat wrappers that spent years compacting together. I definitely inherited the collecting gene, and I love collecting interesting and odd objects myself—each piece is often a whole story in-and-of-itself—and I adored having my antique shop as a side project while I was working on a Masters degree.
Even though he died when you were quite young, how did your grandfather influence you as a child and an adult?
I was young when he died, however I lived for 10 years in his home—where his writing hut sat in the orchard, the witch's tree (where Fantastic Mr Fox lived) was at the end of the garden, and an old Gypsy Caravan that inspired Danny the Champion of the World was within spitting distance from the back door—and you can imagine how impactful that was. He was simply such a huge figure in our family, and I now think about his writing every day in my job as the managing director of his estate, so I can honestly say that we all still feel his tremendous presence. A remarkable life like that (as a writer, inventor, father, war pilot and spy) will echo for a long time. His writing is also so imbued with his voice that it serves as a constant reminder of what he was like, which reminds me of the ending rhyme from his book The Giraffe and the Pelly and Me:
"All you do is to look
At a page in this book
Because that's where we always will be.
No book ever ends
When it's full of your friends
The Giraffe and the Pelly and me."
What other Roald Dahl-related projects are currently in development? Are there any other projects the Dahl estate is working on that readers and fans should be aware of?
Steven Spielberg is directing The BFG for Dreamworks. In fact, I just read the latest version of the script,which is by Melissa Mathison (who wrote ET), and she has done a truly phenomenal job and been incredibly faithful to the book. We also have the Twits coming to the Royal Court theatre next year, and at Christmas you will see a lovely TV film of Esio Trot starring Dame Judi Dench and Dustin Hoffman on the BBC. Longer term, we have a heavy handful of incredible film, television, digital and stage adaptations coming together, and many treats and surprises planned for the year of Roald Dahl's Centenniel, 2016, too!
~ShonaS is curating "Proof of Experience"
/flipboard
@flipboard
+flipboard