Magazines We Love: Skillshare "Graduates" Edition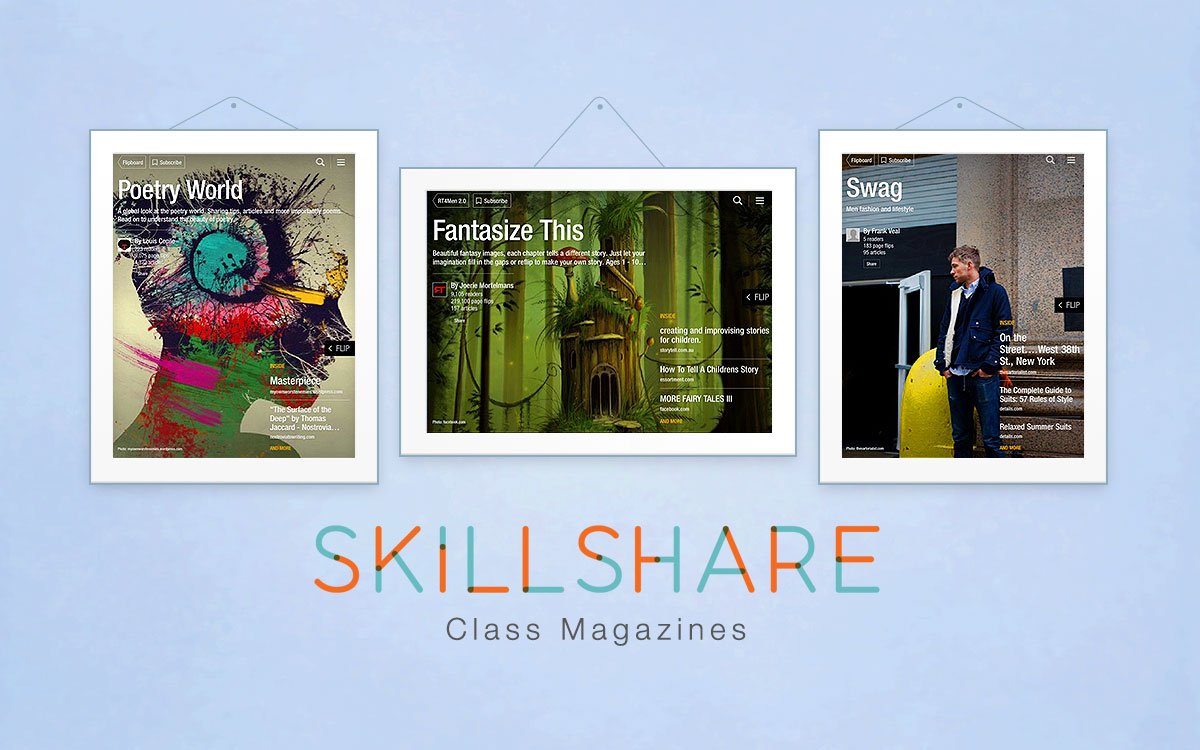 We're teaching an online class right now at Skillshare called "Flip It! Make Magazines on Flipboard." As part of the class, which kicked off on May 28, students create magazines around topics they're passionate about.
More than 80 magazines were submitted to the Projects page by people from all over the world, and they covered everything from photography to parenting to Pompeii. Many curators told us their personal stories, like Nicole Greene, a mom who's using social media to raise the profile of family in Trinidad & Tobago, or Victor Ioan Cernea, who's making up for the fact that Flipboard is not localized for Romania by curating his own Romanian news magazine.
We enjoyed flipping through the submissions, offering tips when needed, and seeing curators help each other with solid advice and positive encouragement. While you can still enroll for the self-paced class, we thought we'd recognize the inaugural batch of "graduates" by featuring a dozen of our favorite magazines. You can find them now in the New & Noteworthy category in any English-language Content Guide or check out a sampling below.
Fantasize This by Joerie Mortelmans: The curator of the made-for-Flipboard magazine RT4Men has taken a radical new approach with Fantasize This, an image-based magazine meant to inspire young readers to make up their own stories.
Education, Technology & Blogging Tips by suewaters: Waters works at Edublogs, which provides blogs for educators and their students. Here, she brings her expertise helping teachers use technology into a magazine format.
The Fundraising Life by Marc A. Pitman: "I'm a fundraiser…and I love it!" declares Pitman. He directs that kind of passion into this magazine, which curates the best nonprofit fundraising advice on the web, as well as tips, tricks, and lifehacks for saving time, increasing enjoyment, and fully living life.
Poetry World by Louis Cecile: A poet and author, Cecile is using his magazine to share poetry, put the spotlight on unknown writers, and help poets find community on Flipboard.
All about Herbs by herbitat: This is a spot-on name for a magazine that covers a variety of topics related to growing and using herbs—and not just in food and drink.
My Neck Of The Hoods by Pearletta Wilson: This Londoner takes readers into her neighborhood of Hackney, with its vibrant street art and culture.
Thanks to everyone who participated in our class, and let us know if there's a Flipboard-related class you'd like to attend.
Best,
~MiaQ
/flipboard
@flipboard
+flipboard