Flipboard for Travelers and Adventure Seekers (Even Just Armchair Ones)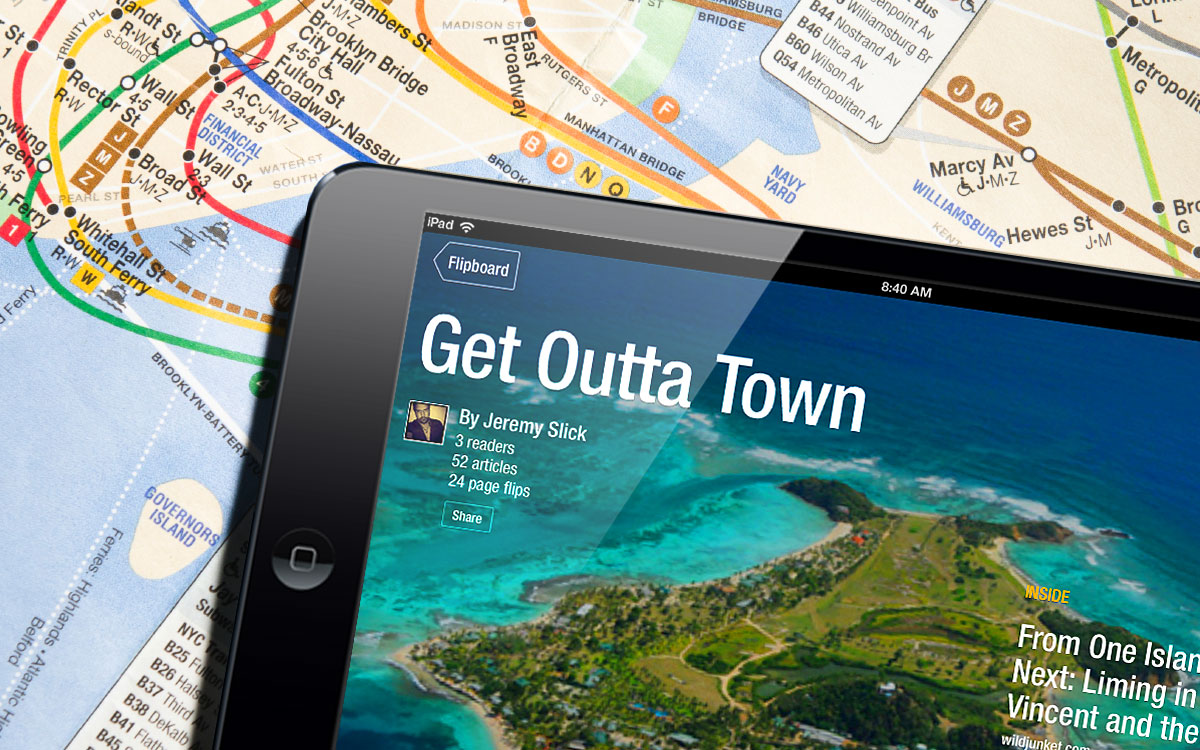 "Flipboard For You" is our bi-weekly series highlighting how different groups of people can make the most out of Flipboard. This edition is focused on anyone who loves to travel. Here are tips to help plan your next trip, inspire future ones or showcase your expertise. Or maybe your wanderlust is satisfied by just looking, in which case magazines can transport you to virtually any time and place.
(Click on the cover to see each magazine.)
1. Collect Ideas. A magazine can serve as an ideabook of all the countries, cities, restaurants, events and sights that you want to visit in the year or even in your lifetime. Get inspired by tapping on the red ribbon and browsing premier travel magazines (NatGeo, AFAR), guide books (Lonely Planet, Fodor's) and blogs (The Everywhereist, Hotel Belle) in the Travel category of the Content Guide. Then, when it's time to make vacation plans, you can quickly flip through your curated collection to remember all the places you wanted to go.
Get Outta Town: by Jeremy Slick
Adventure Trip Ideas: by National Geographic
Big's Bucket List: by Stephen Garrett
2. Create a Travel Guide. OK, so you've got a trip coming up. Tap on the search field on Flipboard and type in the name of the place or other keywords, or browse the Content Guide for expert advice from publications like BBC Travel, Outside Magazine and Lonely Planet. Create the ultimate travel companion by collecting articles about the place into a magazine. Once there, you can always whip out your phone or tablet and flip for ideas about what to see, where to eat, where to shop, etc.
Turkey: by Joice
36 Hours: Europe: by The New York Times
Big American cities – insider tips by locals: by Spotted By Locals
3. Make a Memory Magazine. Showcase vacation highlights and pictures by creating a magazine and sharing it with friends and family. Host your photos on a service like Instagram or Flickr, or if you're on an Android phone or tablet, you can also flip the photos on your device directly into the magazine. Incorporate articles from local media or tweets from your co-travelers, and use our Web tools to arrange the content in a way that best tells the story of your journey. Set your favorite photo as the cover and you can even flip in audio from SoundCloud to give the magazine more atmosphere. Tap the share icon on your magazine's cover to either email it or share via social networks.
South Africa vacation 2008: by Mark Rietveld
4. Showcase Your Expertise. Industry insiders are already using Flipboard to educate travelers on everything from the ins and outs of the world's airports to luxury travel, hotels and cuisine. Subscribe to their magazines to get the latest news in your Cover Stories. Even if you don't work in the travel industry, you can put your own regional knowledge on display in a magazine about your hometown.
Elite Travel Style: by Stacy Small
The Airport Hub: by Elina Zheleva
5. Publish Original Content. If you have a travel blog, make sure it's on a platform integrated with Flipboard, like Tumblr, or that it's available as an RSS feed (here's how to optimize your RSS for Flipboard). Then, search for it on Flipboard, or go to it on the Web, and flip any articles into your magazine. Add content from Flickr, Instagram, YouTube and other sites to custom publish a magazine on any topic of interest. In fact, a magazine gives you the tools to function just like a travel blogger—even if you don't have a blog.
A CULINARY PHOTO JOURNAL: by A Culinary (Photo) Journal
How do you use Flipboard for travel? Please share your ideas and magazines with us at staffpicks@flipboard.com. And don't forget to check out the last installment in the Flipboard for You series, Flipboard for Neighborhood Activists, Issue Advocates, Political Junkies and Pols devoted to anyone who's politically active.
~CarolynG
/flipboard
@flipboard
+flipboard