Flipboard For Businesses, Professionals and Job Seekers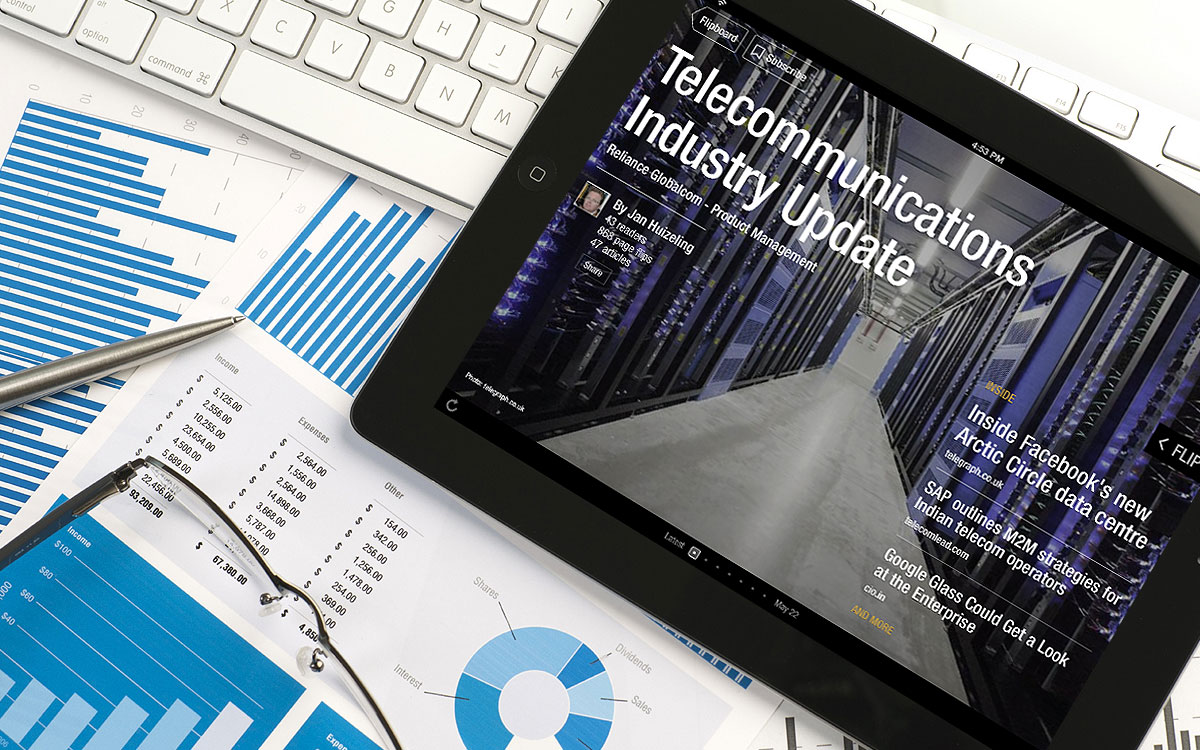 "Flipboard For You" is our bi-weekly series highlighting how different groups of people can make the most out of Flipboard. This edition is focused on how anyone with an interest in business—from the job seeker to the CEO, the casual reader to the laser-focused entrepreneur—can employ Flipboard to stay up on important news while furthering business goals.
1. Connect to LinkedIn: Tap the red ribbon, then Accounts to connect Flipboard to LinkedIn. Quickly browse the latest business news in your LinkedIn feed and Groups, and check out LinkedIn's "Industry Today" feeds to get a snapshot of articles being circulated by professionals in the field.
2. Solidify your expertise: Claim your position as an industry expert by curating a magazine. In addition to collecting articles, photos and videos from prominent sources, like trade magazines and influencers in your field, you might also want to flip in your own blog posts or social media musings—it can be a seamless way to inject your (or your company's) voice into a wider conversation. (To incorporate your own blog content into a magazine, host it on a platform like WordPress, Blogger or Tumblr, and then search for the blog on Flipboard. When viewed on Flipboard, each of your posts will have a "+" by it, allowing you to flip it into your Flipboard magazine. You can also flip posts from the Web using the "Flip It" button.) You can even create a hub for experts in your field by inviting your colleagues and others to curate with you.
Discovering Dentistry: by Alexis Goodrich
Telecommunications Industry Update: by Jan Huizeling
DKE Daily Knowledge Engine: by Michael T. Hartley
3. Promote your company, product or event: A magazine can tell the story of your company, a new product's journey to market, and much more. Think about the story you want to tell, and document or collect elements that support that story. For example, use Instagram to chronicle behind-the-scenes processes, and favorite consumer feedback you like on Twitter. Use the + button within Flipboard or "Flip It" button on the Web to add these items into your magazine. You can also mix in press mentions, product reviews, demo videos—anything that gives color to your story. The Flipboard Editor on the Web allows you to re-arrange items into a coherent flow, and you can share the whole magazine out via email or social media at an opportune time—during a launch, a press event, etc.
FOX Upfront: by Fox Broadcasting
Loyola magazine: by Loyola Magazine
4. Complement your resume with a magazine: Present what you've accomplished thus far in your career in a magazine that includes pieces you've written; blog posts, press coverage and photos of your projects; social media commentary and anything else you'd be proud to display. Share with prospective employers and/or include a link to it in your resume.
Steve Crowther Art: by stevecrowther
My writing portfolio: by Yuliya Popova
5. Keep up with business news, trends and insights: Flipboard is partnered with many of the preeminent names in business journalism. Publications like the FT, Forbes, The New York Times, Fast Company, Marketplace and Harvard Business Review have all been "made for Flipboard"—meaning that their pages have been customized for Flipboard for a print-like reading experience. Use the search bar to find any of them, or search for topics of interest. Flipboard's business readers are ardent curators, and they're making magazines about leadership, management, marketing, career advice, personal finance, small-business issues, and the future of you-name-it. The Flipboard team itself curates a one-stop shop for all the business news you need to know now.
Creating Loyal Brands: by Simon Uwin
Administrative Magic: by Administrative Magic
The Future of Content: by Jan Friman
6. Listen to your customers: Because you can search for anything on Flipboard, you can make a magazine-like feed of all of your company's mentions on Twitter, for example. (Tap on the search bar, enter your search term, and scroll down to "Tweets mentioning…") This is a great way to track, in real-time, what people are saying about you or your brand. You can respond, favorite and retweet from your Flipboard, and it will also appear on Twitter. Flipboard reader Gerry Moran, the Head of Social Media at SAP in North America, recently wrote a blog post targeted to Sales people, with more great ideas on how Flipboard can help make your "time spent on social media listen more profitable."
Up next is Flipboard for Entertainers. Are you a musician, filmmaker or part of your community theatre? Share your magazines with us! featured@flipboard.com.
Don't forget to check out the past installments in the Flipboard for You series: Flipboard for Neighborhood Activists, Issue Advocates, Political Junkies and Pols, Flipboard for Travelers and Adventure Seekers (Even Just Armchair Ones) and Flipboard For Journalists.
~JoshQ
/flipboard
@flipboard
+flipboard