Feel the News Along With Stephen Colbert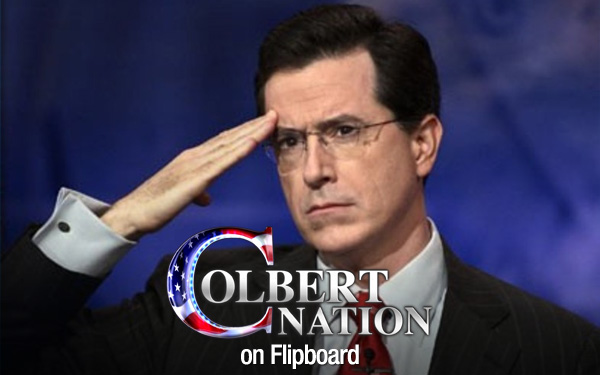 Truthiness: [troo-thee-nis] noun. The quality by which one purports to know something emotionally or instinctively, without regard to facts, evidence, or intellectual examination.
Self-diagnosed as "factose intolerant," Stephen Colbert preaches "truthiness" — his version of the truth and the only version that matters. His nightly newscast, The Colbert Report, has reaped multiple awards, including several Emmys, and earned Colbert a spot on Time's list of most influential people in 2006.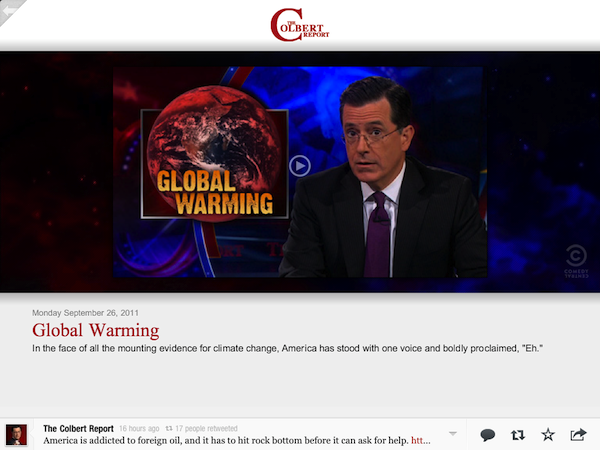 With the addition of Colbert Nation to Flipboard, your daily dose of truthiness is only as far away as your iPad. The magazine-like feed combines videos from recent episodes of The Colbert Report with Colbert's profound musings on everything from health care ("An apple a day may keep the doctor away — but all these Macbooks are getting expensive") to management ("Revenue problem USPS? Have you considered mail trucks that are also ice cream trucks?"). These status messages are not to be missed: In 2010, Colbert was honored with a Golden Tweet award after his comments surrounding the Gulf oil spill ("In honor of oil-soaked birds, 'tweets' are now 'gurgles'") became the year's most retweeted.
Follow the facts you can only know with your heart. Add Colbert Nation to your Flipboard today.
~LaurenP
featured@flipboard.com
facebook.com/flipboard
@flipboard